The Fleet/Commercial Sales Department at Purifoy Chevrolet is here to assist you with all of your business vehicle needs. Whether it is an economy car like the Spark or Sonic, an Express Cargo Van to safely haul your tools & equipment, a Silverado truck with a Service, Platform or Dump Body we have the expertise to match your needs to your budget.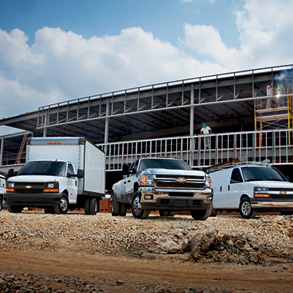 The Chevrolet Business Choice Program rewards business owners with upgrades, including bin packages, ladder racks or wall liner packages on Express Cargo Vans. On Silverado trucks you can take your pick from packages with toolboxes, bedliner, tonneau cover and more at no additional charge. Need a Silverado Cab & Chassis or Express Cutaway? Chevrolet will reimburse some of the cost to upfit the vehicle or you may choose to just take the available Lowes Gift Card. Contact the Purifoy Chevrolet Fleet/Commercial Sales Department or visit Business Choice for more details.
At the Purifoy Chevrolet Fleet/Commercial Sales Department we are ready, willing and able to work with you on all of your vehicle needs, while maintaining the Superior Customer Satisfaction standards that the Purifoy family is known for. Fifty Two Years in business in Fort Lupton, CO and still going strong. Come visit us to find out why.