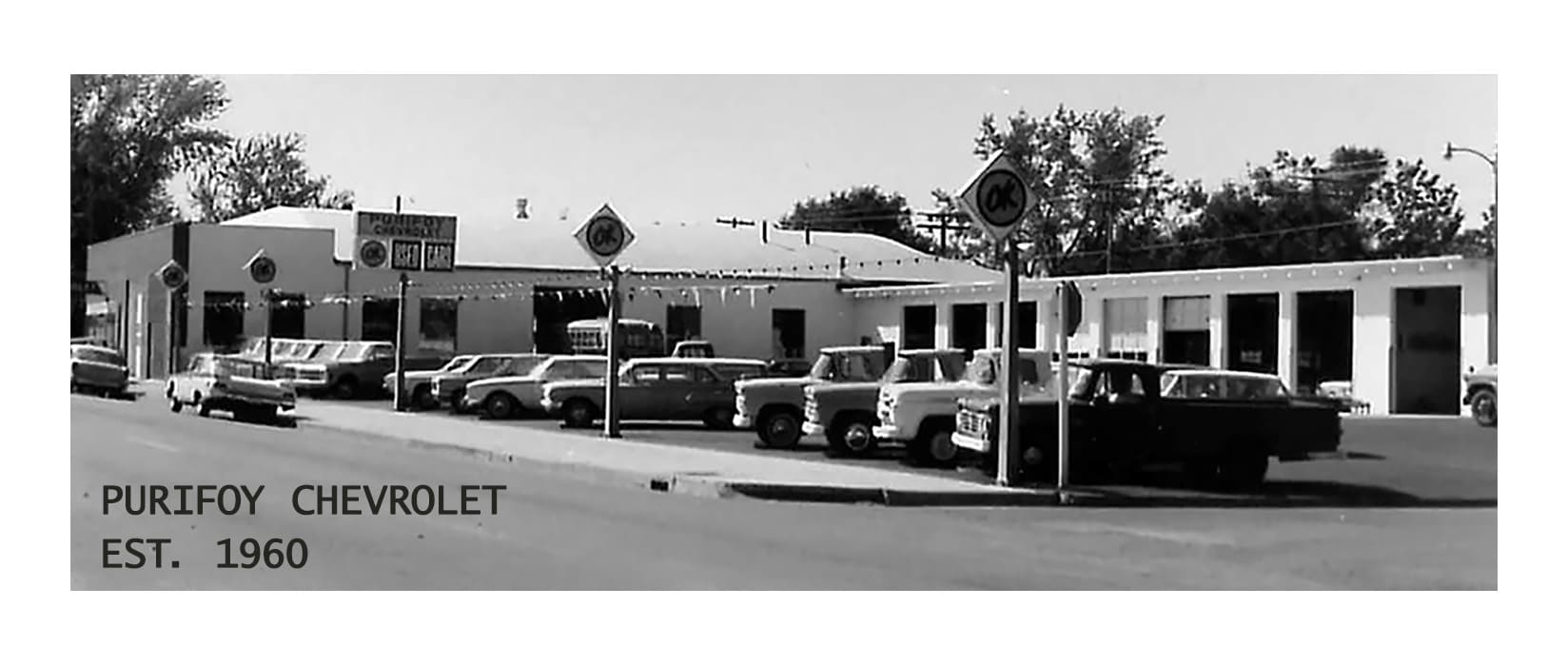 Roland H. Purifoy opened Purifoy Chevrolet's doors in 1960 after running a pre-owned dealership in Colorado Springs, Colorado. He wanted his new Chevrolet dealership to be built on the foundation of integrity, honesty and ethics and even more so on customer satisfaction. He did this by doing business the right way and making sure every aspect of the dealership was up to his very high standards. After many years of operating the dealership in this manner, Purifoy Chevrolet began to develop a reputation that if you wanted to get an honest deal and be treated right it was the place to go.
Over the next 30 years, Mr. Purifoy worked very hard to get his dealership to the top.  He was rewarded for his efforts in 1993 by winning Time Magazine's Quality Dealer Award. This is an award that is presented annually to dealers for outstanding performance and community involvement. He was one of 67 dealers honored that year and the only one in Colorado. He was quoted as saying "I call this my Oscar." The award is and will always be a sense of pride for the dealership.
Mr. Purifoy passed away in May of 1997 and is remembered by the giant flag pole where an American flag flies high over the dealership and the main street of Fort Lupton. There is another flag pole at the new Platte Valley Medical Center in Brighton, Colorado in the memory of Mr. Purifoy and his wife Virginia.
In 1992 Rollie Purifoy took over the full time managing reigns from his father and was determined to keep the dealership up to his father's standards. Through his leadership and the help of many longtime employees, Purifoy Chevrolet has become a dealership with a stellar reputation for customer service and
Corvettes
. His dedication to the dealership, the town of Fort Lupton, his employees and his customers is unmatched in this day and age.
One of Rollie's main goals since 1984 has been to make the terms "Corvette" and "Purifoy Chevrolet" synonymous with each other.  He started by putting an emphasis on
Corvette
in all aspects of the dealership. The sales team,
service department
,
parts department
, and the
body shop
have all become well trained with the
Corvette
; and it is still the main focal point for the store to this day. One look at our fully stocked
indoor showroom
shows our commitment to the
Corvette
. Through hard work, event and
club sponsorship
and dedication to excellence Purifoy Chevrolet has become one of the top
Corvette
dealers in the country with a reputation to match. 
Purifoy Chevrolet is still family owned and operated offering a full dealership experience with:
Your Satisfaction is Our Business at Purifoy Chevrolet